8 capabilities you need on your HR Tech project
Early identification of the stakeholders within your organisation with the necessary capabilities, knowledge, experience and business insight is essential for effective preparation for an HR Technology project.
Bringing their expertise into the process from the outset will ensure thorough consideration is given to all aspects of your HR tech project, and any risks, gaps and concerns can be addressed.
While the breadth and depth of capability required may vary within organisations and depend on the complexity of the project, we believe having a blend of these 8 key players on board to help you prepare will be key to success.
Having a blend of these 8 key players on board will be key to success
Backfill your HR team with additional support so your experienced HR professionals can focus time every week to the project
#1 HR Domain Expertise
A common mistake is expecting current HR resources to contribute to and even manage the project whilst continuing to do their day job. The most effective approach is to backfill your HR team with additional support so your experienced HR professionals can focus a fixed amount of time every week to the project.
Some of the key tasks they'll be responsible for are:
Current state:
Provide subject matter expertise on current state business process (including the issues and opportunities with the current state). Importantly this should be from both an HR and the business perspective
Future state:
Lead and contribute to the design of the future state HR services and supporting processes
Work with HR tech expert resources to review and validate the HR tech requirements required to enable this future state
Coordination of Business Analyst(s) effort in capturing and documenting future state processes
Vendor selection:
Participate throughout the vendor selection including proposal and demonstration evaluation
Implementation:

Participate throughout implementation providing HR SME capability throughout:

in configuration
data cleansing and migration
training needs analysis and roll-out strategy
developing content and HR programs necessary to truly leverage the capabilities of the selected system
Special note: Many of the vendors require these resources to be significantly involved in this process. Their intent is that once the implementation is complete your resources will have the capability to manage the system ongoing (this includes system configuration, upgrades and report writing amongst others). This can be an overwhelming load on HR team members.
Testing and Acceptance:
Adapt vendor provided test scripts, validate the business processes and rigorously test the configuration and integrations
Obtain sponsor and line of business agreement and approval of User Acceptance Testing
Change Management:
Identify where change resistance will exist and develop and execute change management activities and communications accordingly
#2 Business stakeholders
Early engagement of business stakeholders is critical. Obviously you'll want their input to the design and selection of the solution, but perhaps more importantly you'll have a lot more success with the roll-out if everyone knows what's coming and the business problems it's going to address. Without them and their perspective, the project will be seen as an HR initiative for HR's benefit. The key tasks they'll be responsible for are:
Future state:
Provide business perspective on the issues and opportunities which exist, the aspirations for the future state and how the project can be aligned to supporting the business to address them
Input and validation to future state design
 Vendor evaluation and implementation:
Ideally at least one business representative will participate in the vendor proposal and demonstration evaluation and throughout the implementation such as configuration design (prototype) validation, system and integration testing and user acceptance testing
Training:
Contribute to the training needs analysis and development of the roll-out and training strategy
Change Management:
Contribute to, validate and support the change management activities and communications
Participate in training and positively embrace the changes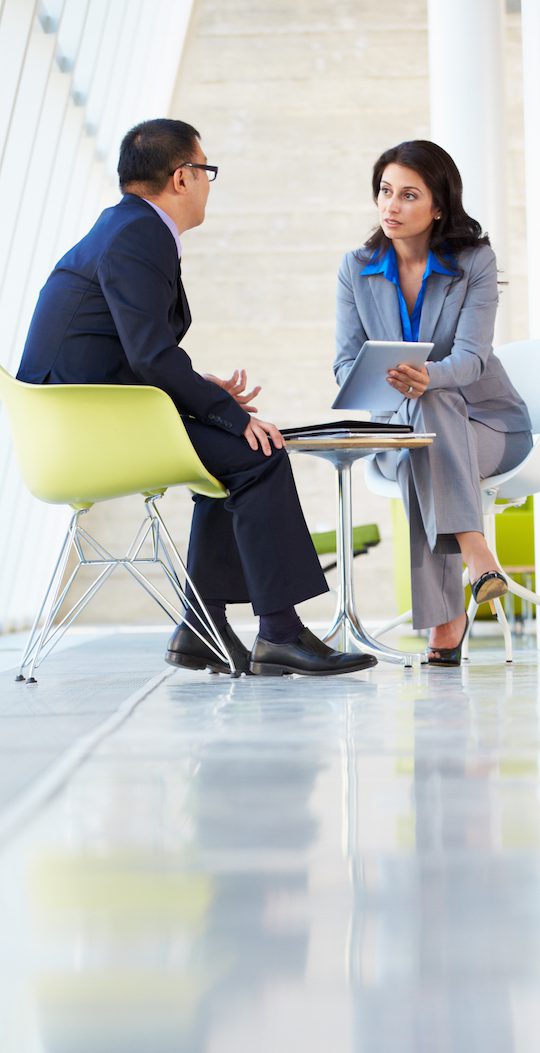 #3 ELT / Executive Sponsor
The single most important person to get onto the team is the project sponsor. The more senior the better. We often hear that the project would not be considered important enough to get a member of the Executive or Senior Leadership Team. If it is positioned as an HR software project then that may be true.
If the purpose of the project is positioned to address key business problems then you will have a different outcome. Note – Helping the business to more effectively manage its biggest expense (staff costs are on average more than 65% of a business expenses) should be enough in itself, but we are sure there are other more pressing issues which the project can be positioned to address.
The key tasks they'll be responsible for are:
Future state and alignment to business priorities:
 Contribute to project purpose, future state goals and targets
Governance:
Chair key governance meetings and provide guidance and support for key decisions
Leadership and influencing:

Raise profile of the importance of the project and demonstrate the support it has from the top of the organisation
Communicate the vision and remove obstacles to the successful outcomes from the project
Change Management:
Contribute to and validate the change management activities and communications
#4 Change Manager
We all accept that in the new "world of work" the old notion "the only constant is change" is more accurate than ever. Yet there is rarely sufficient effort put into managing this change. For HR tech projects this is certainly true. Whilst the need for change management is often acknowledged, usually the tasks fall to an HR team member who is already busy with BAU and other project tasks. Not to mention they may not have the requisite skills, experience and focus.
An effective HR tech project will deliver change across many aspects of the business including processes, services provided, structure, roles as well as the technology. Maximising user adoption is a key determinant of overall project success. Having a change manager committed (at least part time) to the project from the very beginning will go a long way to helping achieve this. They will then remain engaged throughout the selection and implementation and all the way until the solution has become embedded within the business (this can be a significant time after go live).
Some of the key tasks they'll be responsible for are:
Future state:

Evaluate the impact of the future state HR services and supporting processes to staff
Project Planning:

Develop the schedule for the change management activities throughout the project
Engagement and Influencing

Stakeholder identification and analysis
Creation of key messages targeted to specific audiences
Communicating the 'why' and engaging with key stakeholders
Implementation:

Identify changes to current process and roles
Post go live / ongoing optimisation

Continue engagement with users and manage resistance to change
#5 IT representative
Cloud tech implementations are very different to the traditional on-premise software projects around which most IT departments' standards and project methodologies have evolved. Whilst we are seeing this adapt to the more agile nature of the cloud, the default approach can be unnecessarily unwieldy. IT need to be engaged and early on, but their role should be to provide support to the project, not drive it. HR needs to be the custodian of the project and accountable for the successful delivery of it. The key tasks IT will be responsible for are:
Governance:
Assist with establishing required project governance
Business requirements:
Contribute to the development of the business requirements such as technical standards for infrastructure, privacy and security as well as integration requirements
Vendor evaluation:

Participate in the vendor proposal evaluation
Implementation and integration:
Identify and execute any necessary infrastructure or standards changes required to implement and optimise the selected solution
Coordinate the data migration from legacy systems and associated testing
Lead integration and single-sign on work streams
Testing:
Participate in system and integration testing
#6 Project Manager
Project Managers can be very costly resources. The most effective PM's have relevant HR tech experience, ideally with the solution you are implementing. For both reasons we recommend these resources are engaged around the time you have identified the preferred vendor. Some of the key tasks they'll be responsible for are:
Project Delivery:

Ensure the vendor completes an effective Sales to Delivery transition, including appropriate vendor resources are allocated and then maintained throughout the project
Relationship Management (Vendor and Customer):

Is the interface between the vendor and customer, working closely with all resources to ensure open lines of communication and a high level of responsiveness at all times
Contract and project document management
Review, negotiate and approve all vendor plans, documentation, deliverables, escalations, change orders and financials
Project Management:

Provides essential project coordination and management functions such as maintaining scope and project schedule, regular status reporting, managing the issues and risks registers and participating in project and governance meetings as required
Resource Management:

Coordinate internal resources including obtaining information, data decisions, technical activities and approvals and providing regular communications to the project team
#7 Cloud HR tech expertise
(Functional Consultant)
Software systems are like plumbing – the inner workings are generally out of sight, but when they don't function properly, it's a messy business. To make matters worse, vendors are rapidly evolving, differentiating their products and creating a lot of confusion. They also will not tell you all you need to know – for example the effort required to resource the project adequately – so it is a case of buyer beware!
From project inception to successfully embedding the selected solution will take at least a year. In most cases it will take much longer. A project of this type is not dissimilar to building a house. You can select a builder without first engaging an architect, but you're introducing a lot of risk and the end result will most likely not live up to your vision.
A cloud HR tech expert will be your architect.  Some of the key tasks they'll be responsible for are:
Project planning:
Develop the holistic project schedule
Vendor evaluation and implementation:
Provide guidance on vendor selection and implementation best practices
Subject Matter Expertise

Provide process and application subject matter expertise, best practices and "practical" practices for the business specific conditions (including insights on best practice processes enabled by HR tech)
Provide HR tech subject matter expertise throughout the project:

For the project manager including escalating project concerns in a timely manner
For the training needs analysis and training materials development
For the change management design, development and execution
Configuration:

Participate in the configuration, maintain open items, track configuration issues and revise configuration to incorporate requirements
Testing:
Develop and execute the test strategy and plan (end-to-end, integration and user-acceptance), including milestone signoffs with purpose and dependencies
Coordinate and follow-up on functional and technical questions
#8 Super User
(we prefer the term System Analyst)
Whilst the software vendors provide technical support (e.g. in response to specific requests) you will need to provide resources to administer and manage the system with a focus on increasing the utilisation over time. Often poorly described as System Administrators (the role involves a lot more than admin), this role requires domain expertise across HR as well as technical aptitude with the selected system.
Typically, we recommend someone from within the HR team who has a solid understanding of and credibility with the business as well as a passion for technology. Ideally this resource should be identified as the System Analyst at the beginning of the project and be involved throughout the implementation.
Some of the key tasks they'll be responsible for post go live are:
BAU, user support and adoption:
HR user support and transitioning skills to HR users
Changing the configuration and content (e.g. templates, forms and communication)
Introduction of new processes, or changes to existing processes
Keeping up to date with releases of new functionality, the impact on the business and how to roll-out the new capabilities
Collating and prioritising change requests
Training:

Training needs analysis, end-user training and training materials development and management
Report writing:
Analytics/reporting design and development
Report request management and consolidation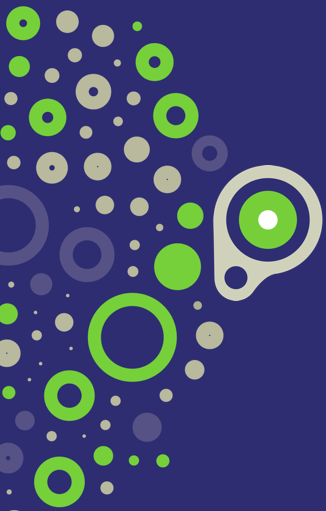 Bringing it altogether
In our experience gained from more than 300 cloud HR tech projects, the biggest risk to the successful delivery of the project relates to the availability of these resources. This is from both an effort perspective (i.e. how much time should they allocate for the work) and also for planning when and where they need to be brought into the project.
To mitigate this risk, we recommend you focus on identifying the people you'll require on the team and develop a detailed project schedule that reflects the expected effort, their responsibilities and when their involvement is required.
This will mean taking into account work already completed, stakeholders to be engaged from across the business, the availability and capability of the resources, constraints (for example, other key projects, policy and regulatory constraints, standard operating environments and change management challenges) and the extent of the gap between the current state and aspirations for the future state.
A good place to start with this is to find someone senior in the business who has done a project of this type before. Seek their advice on lessons learned and suggestions for who should be involved from across the business.
Once you've identified the members of the team assemble them into a working group. This group can then evolve into the governance structure for the project implementation and potentially beyond.
You may also be interested in a recent article we wrote – 'How to be confident your HR Tech project is ready for success'.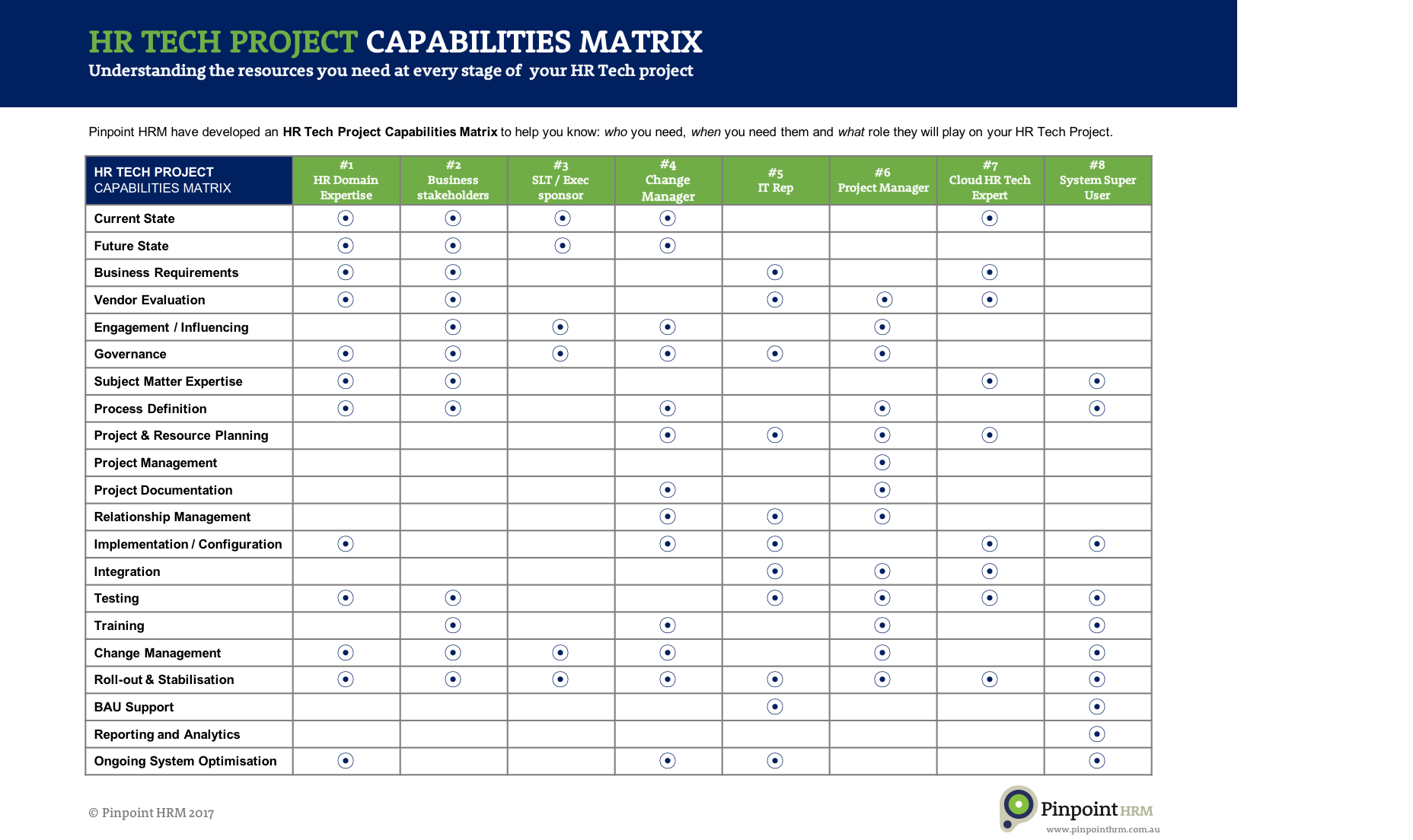 If you'd like to talk more about capabilities or you'd like help with evaluating the resource plan for your project please contact me: craiga@pinpointhrm.com.au | 0413 886 806
You may also be interested in our Event Series