Melbourne Grammar cuts administration tasks and agency costs with Cloud HCM Solution
Oracle Talent Acquisition Cloud enabled us to reduce HR administration tasks by 5x and cut agency costs by US$64,000 in 18 months. Our hiring managers also gained real-time insight into candidate information, created timely reports for school council, and made faster hiring decisions.
Founded in 1858 by the Church of England Bishop in Melbourne, Melbourne Grammar School is one of Australia's oldest and most prestigious independent schools. It has a strong tradition of providing academic excellence, comprehensive learning, and leadership opportunities to 1,800 students across three campuses—junior school, middle school, and senior school.
With its distinct culture of philanthropy and holistic education approach, the school encourages parents to participate in many aspects of school life and allows students to grow and achieve within a strong and supportive community.
The Challenges
High recruitment administrative costs 
Goal: Reduce significant overhead by automating recruitment processes, such as screening teacher applications, rather than hiring temporary administrative staff to compile the shortlisting packs, a process involving printing each applicant's resume and cover letter and sending them to the interview panel via internal mail
Limited visibility of recruitment status of applicants
Goal: Enable HR team members to track complete recruitment lifecycle and create accurate and faster annual reports for members of school council
Manual processes and tasks dominated the recruitment process
Goal: Rebrand the school as a technological leader in the education industry by ensuring seamless processes for candidate applications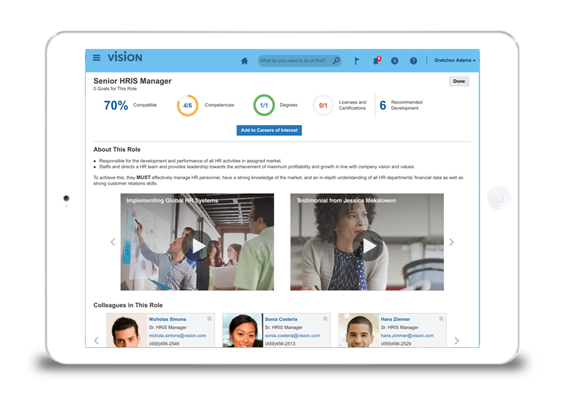 The Solution
After evaluating various vendors during the selection process, Melbourne Grammar School adopted Oracle Recruiting Cloud Service, part of Oracle Talent Acquisition Cloud, for its recruitment processes.  With assistance from the Oracle account manager and Oracle Partner, Pinpoint HRM, the school configured Oracle HCM Cloud based on its business requirements. It also involved its internal IT team to ensure security for the cloud solutions.  Melbourne Grammar School completed the first stage of the project in approximately eight weeks. The school is currently implementing the onboarding module in stage two to further improve communication process to new hires.
"We realised significant improvement in HR process efficiency. Oracle Talent Acquisition Cloud is an asset rather than a cost to us."
The Results
Significantly reduced annual agency costs
Reduced agency costs by approximately US$64,000 in 18 months by automating prescreening and ranking of up to 2,500 candidate applications each year with Oracle Human Capital Management Cloud (Oracle HCM Cloud), eliminating the school's need to hire temporary staff to process candidate information
Improved efficiencies in the hiring process by eliminating manual processes 
Increased the school's hiring efficiency by capturing up to 130 resumes for each vacant position directly into Oracle Talent Acquisition Cloud rather than sending emails, enabling hiring managers to instantly access and shortlist candidates without needing to spend up to two days with the manual process
Utilisation on strategic tasks (vs admin) increased to 90%
Improved HR productivity by 5x by reducing time spent on printing and compiling 40,000 pages of candidate information per year—enabling HR staff members to utilize 90% of their time on strategic tasks, such as appraisal development policies, and 10% on administration instead of 50/50 previously
Staff utilisation on Strategic Tasks
Pinpoint HRM are professional and helpful. We gained the flexibility to integrate email templates with Oracle Talent Acquisition Cloud, helping us to ensure consistent internal and external communication and encourage more candidates to sign up to job alerts via LinkedIn.
Organisations we've helped since 2004
Client stories and testimonials
- Focused on technology to improve HR effectiveness -